Poker Rules
Poker Strategy
Poker Tips
Poker Speak
Hand Rankings
Texas Hold'em
Omaha Poker
7-Card Stud
5-Card Stud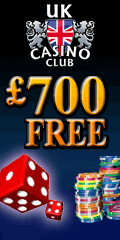 How to Play Video Poker. Rules, Tips, Strategy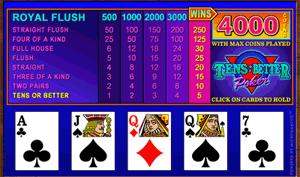 Video Poker Rules



The object of the game is to get any of the winning combinations of poker hands. The winning combinations and the payoff schedule are listed on a payout schedule attached to the machine.

Playing The Game

You deposit coins into the machine to place your wager. The bet must be placed before you draw your cards, and can't be changed once play starts.
After your bet, you push a button marked "Draw/Deal", this will result in you seeing your initial hand of five cards.
You then decide if you wish to keep any of the cards in your hand. If you do you push the "Hold/Cancel" button under the card(s) you wish to keep. In the event you change your mind and don't wish to keep a previously held card push the "Hold/Cancel" button a second time and the hold will be canceled.
Make sure that there is confirmation on the screen that you have held the cards that you want to hold (the word "hold" flashes under your held cards).
Press the Draw/Deal button a second time to obtain new cards for those not held.
If you have a winning hand the machine pays off and is then ready for another game.
The following hands win, ordered top to bottom from the best hands to the worst respectively:

Royal flush
This is the highest possible hand in poker. A Royal Flush consists of Ace, King, Queen, Jack and 10 of the same suit.

Straight flush
This is the second highest hand possible. A Straight Flush consists of five cards in order and of the same suit; (note that an ace can usually be counted as the lowest card in the order) for example A, 2, 3, 4, 5 is a group of five ordered cards.

Four of a Kind
This hand consists of four cards of the same value plus one other odd card (for example Q, Q, Q, Q, 3).

Full House
Is a hand containing three cards of one rank plus two cards of another rank (for example J, J, J, 4, 4 or 6, 6, 6, 8, 8).

Flush
If all five cards in a hand belong to the same suit you have a Flush (for example 4 of Clubs, 5 of Clubs, 7 of Clubs, Queen of Clubs and Ace of Clubs)

Straight
A straight consists of five cards in order, but not of the same suit (for example Ace of Diamonds, 2 of Clubs, 3 of Hearts, 4 of Clubs and 5 of Spades).

Three of a Kind
Is a hand containing three cards of the same value along with two odd cards (such as 7, 7, 7, A and 2).

Two Pair
A pair is two cards of the same value or rank. You have two pair if the hand has two pair plus an odd card (for example 6, 6, 7, 7, 2).

One Pair (Jacks or better)
A pair is two cards of the same value or rank, in video poker only pairs of jacks, queens, and kings or aces pay off.



Video Poker Strategy




Each Video Poker game has its own strategy, based on the rules and the payout schedule. Pay particular attention to the payout schedules before playing a game, as certain games pay better on straights or flushes or special hands, which may affect your decisions. Also, since the payout ratios do not necessarily reflect the true odds, familiarity with basic poker rules and odds will help you play smarter.
You should notice that the payout schedule almost always favors the Max Bet column. So if you are comfortable with betting the maximum, you will have slightly better overall odds of winning. But ultimately, the only way to beat a Video Poker game in the long run is to win a Royal Flush. In this way, it is quite similar to slot machines.

A Basic Video Poker Strategy (other than Deuces Wild)

Keep any hand that is already a winning hand. You may make an exception and go for a higher payout if you have 3 cards of a Royal Flush, or 4 cards of a Straight Flush, Straight, or Flush.
Don't hold 4 cards of a Straight that can only be completed one way (an "inside" Straight).
Don't hold 3 cards of the same suit, hoping for a Flush, unless it could potentially become a Straight Flush.
If you have a Pair or 3-of-a-Kind, don't hold a single high card with the hope of making another Pair.
Keep two or three high cards of the same suit, and discard the rest. (Note: a "high" card is one which pays on having a Pair.)
If you are dealt four high cards of mixed suits, keep them all and discard the 5th.
Keep three high cards of mixed suits if they are consecutive, otherwise discard the one that is not in sequence.
Keep two high cards of mixed suits and discard the rest, if you have none of the above.
Keep one high card and discard the rest, if you have none of the above.
ALL-AMERICAN: This is your basic Video Poker game, but it generally has higher payouts for Straights and Flushes. Therefore, hold any three cards of the same suit to try for a Flush. Also favor 4-card inside Straights over Pairs and single high cards, and favor 4-card outside Straights over any kind of Pair.
JOKER POKER: This is generally a "Kings and Better" game, so the only Pairs that win are Kings and Aces. Your strategy should be basically the same as for basic Video Poker games like "Jacks or Better". You should always hold onto a Joker if you are lucky enough to get one (about one every ten hands). Also, your odds of getting a Straight Flush a considerably better than in Jacks or Better, so you may want to keep an eye out for hands one or two cards away.

Deuces Wild Video Poker Strategy

As we mention on the rules page, there are more winning hands with four Wild cards per deck, and payouts are lower than in other Video Poker games. Your strategy should therefore take into account the welcome appearance of these Deuces.
If you already have a Royal Flush or 5-of-a-Kind, it goes without saying that you should hold all your cards. . .
If you have three or four 2's, hold them and any others making up a Royal Flush and go for the Royal Flush.
If you have two 2's, keep a Straight if you have it, otherwise hold any four cards of a Royal Flush or 4-of-a-Kind. If you have none of these, hold onto the 2's and discard the rest.
If you are dealt a single 2, you generally want to hold onto any winning hand, unless you have one of the following hands (in this order): a 4-card Royal Flush or Straight Flush, a 3-card Royal Flush, 4-card Straights and Flushes, any kind of Pair (not including the Deuce), or a 3-card or a 2-card Straight Flush. Otherwise, hold onto the 2 and discard the rest.

Video Poker Tips

The odds of winning Video Poker differ from hand to hand and from game to game. For the experienced player, the house edge on Video Poker is fairly small, and in some cases the odds are even. The house edge increases when the player does not follow a strategy - so if you are a beginner don't bank on winning big. If you are playing using a fundamental understanding of poker, you can expect to lose your money rather quickly.
Each variant of Video Poker will have its own optimized strategy though each may follow a standard of playing. Below you will find general tips & basic Video Poker strategies. If you're serious about Video Poker, you should make an effort to learn as much as possible about the strategies so that you can substantially increase your odds of winning.



Tips:



Play Carefully - Take your time and make wise decisions. It's you against the machine and there is no need to rush things.

Know the Paytables - This is one of, if not the most important keys to success in video poker. You need to understand the paytables for each machine - understanding these will potentially allow you to maximize your winnings.

Play each hand like a new game - Since you are playing a machine try and forget about the last hand played. The machine has no memory of the last hand - the random number generator assures this, so don't fret over what happened last hand - focus on the next.

Practice makes perfect - the more you play the better you will be. Learning which cards to keep and which cards to discard is very important if you are to take full advantage of the payout tables. If you use your knowledge consistently i.e. utilize a strategy, it will help assure that you will meet the payout percentages of a particular machine.




Captain Cooks Casino

Get

£500

Free and

1 hour

to make as much money as you can. Quite possibly the luckiest casino on the web, internet gaming history was made when Captain Cooks announced the first ever online million dollar jackpot win on the casino's progressive slot, Major Millions.




Golden Tiger Casino

Play any game with

£1500

totally free - no deposit required and whatever you win in your first 60 minutes is yours to keep! Play at Golden Tiger Casino with NO RISK to your personal funds!.




Casino Classic

Get

£500

Free and 60 minutes to make as much money as you can. UK Casino Classic has 400 games for you to choose from, including table games, slots, card games and progressive jackpot games. Preview the games below and check out the current jackpot levels.


Top Online Casinos

Phoenician Casino

You can get up to

£1200

bonus!



Captain Cooks Casino

Captain Cooks will give you

£500

FREE and 1 hour to make as much money as you can.



Golden Tiger Casino

Get

£1500

free - no deposit required.



Casino Classic

Get

£500

Free and 60 minutes to make as much money as you can.



Virtual City Casino

Get

£10

free just for downloading their software. Virtual City has a great selection of games, and all the great progressive jackpots like Major Millions, Wow Pot and Triple 7s Blackjack.



Lucky Emperor

For a limited time we offer this amazing sign up bonus:

£10

Free, no purchase required!




The Gaming Club

Get

£100

bonus to win on fantastic range of free slots games!



Lucky Nugget

£1000

free – double your chances of winning.



River Belle

Buy £200 and get

£200

Free at River Belle



Jackpot City

Get

£500

free. Choose from over 400 Slots and Progressive Slots.



7 Sultans

Get free

£1000

free bonus.



Royal Vegas

Get free

£1200

free bonus at Royal Vegas.



Platinum Play

Get

£1500

free (no deposit required) to spend on a variety of games. You'll have the most fun and exciting online gaming experience possible in a safe & secure environment.