Poker Rules
Poker Strategy
Poker Tips
Poker Speak
Hand Rankings
Texas Hold'em
Omaha Poker
7-Card Stud
5-Card Stud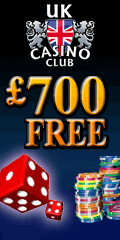 How to Play Keno. Rules, Tips, Strategy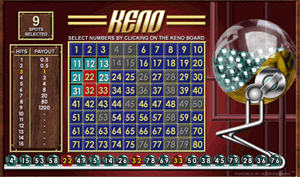 Keno Rules

Before starting to play though it is recommended you pick up a booklet of the exact house rules and payouts at the Keno counter.

To play it you have to pick up a Keno Sheet, if you are in a physical casino you will find those sheets everywhere even in the casinos restaurants, or you just pick them up at the Keno counter. Some casinos even have Keno runners. These are people walking around in the casino giving away Keno sheets.

All you have to do now is mark one to fifteen numbers, out of eighty available, on the ticket and give it back to the counter or the runner. The bets generally start at one dollar. After you make your bet, by giving the ticket back to the runner or the counterperson, he or she will enter your numbers into a computer and give you a printed ticket. Make sure to double-check the numbers you filled out on the sheet with the one on the printed ticket because once the game started no more changes can be made.

At the beginning of the game eighty numbered balls are mixed in the Keno bowl and twenty of the balls are ejected at random from the bowl. Those numbers then appear on the Keno boards which are mostly located all over the casino and the restaurants. If enough of your selected numbers are drawn of the bowl you are a winner. To find out how many numbers you need to win and how much the payout is you should pick up a Keno Booklet as mentioned above. The more numbers you selected, the more numbers you will need to be a winner.

Also a very important part of the game is that if you are a winner you have to cash in your ticket before the next game starts. It is usually 10 to 15 minutes before the next game begins. You can also play more than one game on one ticket, if you do that, you don't have to cash your ticket right away. Wait until the last game your ticket is entered into ends and then collect the money. If you are playing one ticket for let's say ten games it would be foolish to cash your ticket right away because you would lose any chance of winning again in the ten rounds you paid for. Still, you have to collect after the last game you are entered ended and before the next game starts or you won't get a dime.

The only exception casinos make is if you are playing one ticket for 30 games or more. You can collect your money up to a year later, in most casinos, if you play this many games on one ticket. But before you take this information for granted browse through the Keno Booklet you picked up and make sure how the casino handles these kind of bets.

Some casinos also offer "Special Tickets" to add variety to the game. One version is called "Top and Bottom Keno". In this version you don't pick any numbers, instead you write a "T" on the top portion, and a "B" on the bottom of the ticket. In each portion there are twenty numbers. If thirteen or more numbers in either portion are drawn out of the bowl you win. This Keno variant may not be available in every casino so check your Keno booklet for more info.

The Rules for Keno in an online casino are exactly the same! You will find the booklet on the website you are playing on.

Keno Strategy

When starting the keno game for the first time the keno table is empty - no numbers are selected and the default wager amount ($1) is active. Re-entering the game will show your last game state status.

You decide how much you want to wager by clicking on one of the COIN buttons.

Once you have completed placing your wager select your numbers on the keno ticket. You can select from one to fifteen marks and to deselect a mark click on it again.

The number of marks chosen is shown in the 'Total Numbers Played' field and the paytable changes depending on how many marks you have selected.

Once you are ready to start the game click on one of the PLAY buttons.

The balls start bouncing in the drum and the numbers are randomly drawn. As a ball drops from the drum they roll across the screen and the number is displayed on the ball once it has come to a complete stop.

If you have successfully predicted a catch the following three things happen:

1) On the Keno ticket, your mark turns yellow with a red number on it,

2) The ball turns from blue to yellow and also has a red number on it and

3) The paytable highlights to show that a catch was made.

These three steps happen each time a catch is made.

When all twenty numbers have been drawn you can see the number of catches on the PAYTABLE and the amount you won in the PAYOUT field.

If you clicked on the PLAY 5 or PLAY 10 buttons the balls then roll off the table and new numbers are drawn until all 5 or 10 plays are completed. Your casino account balance is adjusted accordingly after each game.

The paytable shows the payout - number of tokens - for how many catches are made. The paytable changes, depending on the number of marks you make.

To play again you click on the REBET or CLEAR button, the balls roll off the table and new numbers are drawn

Online Keno Tips:

Keno is a chance based game. The best way to get the most out of your Keno experience is to properly manage your bankroll. It's easy to get caught up in the excitement of the game and lose track, but be sure to not get over your head. Remember to enjoy your play with Keno, as it's a form of entertainment with the chance of winning.

Many Keno vendors allow for you to bet a variety of wagers, from $1 to up to $100 per game. The odds of the game do not change in relation to your wager, so to maximize your playing time a good keno tip is to limit your play per game so you can afford at least 10 games without a win. IE: If your bankroll is $50, then wager no more than $5 a game. This will ensure you extend your time playing while having as much fun as you can.

When playing Keno it is a good tip to have a set "Goal" amount of winnings. A good rule of thumb is 50-100% of your initial bankroll. Once you hit this amount you will cash out, regardless of how well you're doing. If you happen to achieve winnings over and above your preset "Goal" you can wager the extra cash until you either win or hit your cashout point. This will increase your playing time while still enabling you to come out ahead.




Captain Cooks Casino

Get

£500

Free and

1 hour

to make as much money as you can. Quite possibly the luckiest casino on the web, internet gaming history was made when Captain Cooks announced the first ever online million dollar jackpot win on the casino's progressive slot, Major Millions.




Golden Tiger Casino

Play any game with

£1500

totally free - no deposit required and whatever you win in your first 60 minutes is yours to keep! Play at Golden Tiger Casino with NO RISK to your personal funds!.




Casino Classic

Get

£500

Free and 60 minutes to make as much money as you can. UK Casino Classic has 400 games for you to choose from, including table games, slots, card games and progressive jackpot games. Preview the games below and check out the current jackpot levels.


Top Online Casinos

Phoenician Casino

You can get up to

£1200

bonus!



Captain Cooks Casino

Captain Cooks will give you

£500

FREE and 1 hour to make as much money as you can.



Golden Tiger Casino

Get

£1500

free - no deposit required.



Casino Classic

Get

£500

Free and 60 minutes to make as much money as you can.



Virtual City Casino

Get

£10

free just for downloading their software. Virtual City has a great selection of games, and all the great progressive jackpots like Major Millions, Wow Pot and Triple 7s Blackjack.



Lucky Emperor

For a limited time we offer this amazing sign up bonus:

£10

Free, no purchase required!




The Gaming Club

Get

£100

bonus to win on fantastic range of free slots games!



Lucky Nugget

£1000

free – double your chances of winning.



River Belle

Buy £200 and get

£200

Free at River Belle



Jackpot City

Get

£500

free. Choose from over 400 Slots and Progressive Slots.



7 Sultans

Get free

£1000

free bonus.



Royal Vegas

Get free

£1200

free bonus at Royal Vegas.



Platinum Play

Get

£1500

free (no deposit required) to spend on a variety of games. You'll have the most fun and exciting online gaming experience possible in a safe & secure environment.