Poker Rules
Poker Strategy
Poker Tips
Poker Speak
Hand Rankings
Texas Hold'em
Omaha Poker
7-Card Stud
5-Card Stud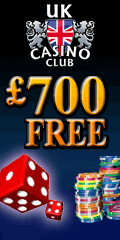 How to Play Baccarat. Rules, Tips, Strategy
Baccarat Rules

Initially two hands are dealt. One to the baccarat player, one for the banker. The simplicity of baccarat rules is, you can bet on either one or the other, or a tie. If the hand you bet on wins, you get an even money payoff, that's one to one. If you bet 5 and win, you get your 5 back, and another 5. If you bet on a tie, you get an 8 to 1 payoff (bet 5 get 5 plus 40). This is of course because a tie occurs less than once out of every ten hands, making it quite a gamble.
Each hand gets two initial cards. The hand closest to 9 wins. Tens and face cards (except the ace) count as zero. The ace counts as one, and cards 2 through 9 are worth face value. Baccarat rules state that the hand closest to a count of 9 wins. There is no "bust" as in poker, and here is the tricky part. The first digit of a 2 digit total is dropped. This means, if a 6 and a 7 are drawn, the total is 13, but the first digit is dropped, so the count is 3.
If the first two cards achieve a count of 8 or 9 it is called a "natural", and as such wins automatically (excluding the event of a tie of equal valued "naturals").
If neither initial hand is a natural, additional cards are drawn to determine a winner. Baccarat rules state that winning banker bets are subject to a 5% house commission. This is of course because there is more of a chance for a banker win.
What's interesting, and what you wont learn from reading any standard baccarat rules pages, is that even after the 5% house commission, there is still an advantage to betting on the house. The margin is slim at 0.19%, but it does exist.
All bets are made before the cards are dealt. In real life baccarat each player gets the chance to deal if they want to, or they have the option of passing to the next player.

Baccarat System

Baccarat systems are few and far between. That is, systems that are designed specifically for that game, but many other mathematical betting systems may fair well in this general card game.
You may have heard of the 1 - 3 - 2 - 6 baccarat system. With this approach you keep track of what you bet over the course of four hands. The objective of course is to bet a little with the potential for a larger return. With this specific baccarat system, you can risk two dollars for a return of ten.
It goes like so:

First, bet one unit. If you win add another, making the second bet a total of three units.
If you win the second bet there are six units on the table. Remove four, making the third bet two units.
If the third bet wins, add two more units for a total of six on the fourth bet.
If the fourth bet wins, you collect a total of 12 units, ten of pure profit.
So if you lose the first bet using this baccarat system, you lose one unit. If you win the first bet but lose the second, that's two units you've lost. If you win the second bet but lose the third bet, your profit is two units. If you win the first three bets but lose the fourth, you break even. If you lose the second bet five out of six times, and then win four consecutive bets once, you break even.
This baccarat system works by the nature of the game being and even-money odds game. The same system will work for any casino game that pays out even-money.

Baccarat Strategy

Baccarat strategy is often said to be non-existent. Not so. There are a number of things you can do to increase your odds of winning this game, and there are a number of things you can avoid doing. Many people will give you advice on what they would call a baccarat strategy. Unfortunately the majority of the time these are myths.
The first thing you notice about baccarat at land based casinos, is that almost everyone at the table is tracking the results of each hand on scorecards. These people are pattern chasing, or pattern spotting.
Quite simply they are looking for patterns in the outcomes of the hands. You may ask why. If so you may be intelligent! There is no rhyme or reason to use pattern spotting as a baccarat strategy, it's simply superstition. Where is the rational behind thinking a randomly shuffled shoe of eight decks is going to follow distinct patterns?
So although you may see everyone around you marking down numbers, take it as entertaining company, but don't be fooled into participating. Think about it, would the casinos provide everyone with a pencil and chart if they were really worth anything?
Card counting is another technique that people attempt to utilize as a baccarat strategy. This method is usually associated blackjack, and involves keeping track of cards that have been played from the shoe in order to gain an advantage against the house. This sounds awfully promising considering the nature of baccarat. As more cards are played from the shoe, the more you know about the cards that are left. But even though cards can be shown to be mathematically favorable or unfavorable, the effect is miniscule.
Unlike blackjack you can't alter your bet mid-hand. Using card counting as a baccarat strategy finds so few situations with an advantage against the house that the efforts overall are worthless. Baccarat can be considered a coin toss played with a lot of fanfare. Don't let this impression lure you towards systems that involve doubling your bet until you win. Streak analysis or pattern spotting is also useless, but serves as entertainment in a game where the simplicity can produce monotony. Looking at the numbers the odds are always better if you bet on the banker. Does this mean you should always bet on the banker? Technically yes. Practically, perhaps not. This baccarat strategy would be undeniably boring, and so you wouldn't be playing for very long. Remember, the house does have an edge, even though it is relatively small for baccarat. This means that in the long run the house will win, undeniably.
The point here is, although the casino does have the advantage in the long run, baccarat provides a rare opportunity for short term success. Try to escape with your winnings and don't chase your losses. Never lose track of how much your betting per hour, this is your best possible baccarat strategy.

Baccarat Tips

Tip #1: The one card placed faceup on the table indicates how many cards the dealer will burn. If the card turned up is a four of clubs, the dealer will burn four cards.
Tip #2: In baccarat, the casino takes a commission whenever a player wins a bet placed on the banker side. This is because betting on the banker has an inherent 1.06 percent advantage. Bets are paid at 0.95-to-1.
Tip #3: Twos through nines are counted at face value; tens and all jacks, queens and kings count as zero; and aces count as one. Suit is irrelevant in baccarat.
Tip #4: First and third cards are dealt to the player. Second and fourth cards are dealt to the banker.
Tip #5: For any total over nine, only the last digit is taken - for example, a total composed of a six of clubs and a six of diamonds is two. If either the player or the banker has a total of eight or nine, it's called a "natural" and automatically wins - unless the other hand also has a natural, in which case the two hands tie.
Tip #6: If the player holds a total of less than six or seven, the player draws.
Tip #7: With a total from zero to two the bank always draws; with a total of seven the bank always stands; with a total of three the bank draws, unless the player drew and its third card was an eight; with a total of four the bank draws, unless the player drew and its third card was an eight, nine or ace; with a five the bank draws, unless the player drew a third card outside the range of four through seven; with a six the bank stands, unless the player drew a third card of either a six or a seven.

General Tips
It is a good idea to avoid tie bets altogether, since they give the house a significant advantage, close to 20%, in fact. By sticking to only the banker and player bets, the house advantage will remain at a minimum, thereby maximizing your chances of winning.
Betting on the player gives the house a 1.36% edge
Betting on the banker gives the house a 1.17% edge
Either way, the house has the edge and should win in the long run.
Some baccarat players believe in streaks and will bet on whatever won the last hand. This strategy does not give you better odds though as each hand is like the flip of a coin.




Captain Cooks Casino

Get

£500

Free and

1 hour

to make as much money as you can. Quite possibly the luckiest casino on the web, internet gaming history was made when Captain Cooks announced the first ever online million dollar jackpot win on the casino's progressive slot, Major Millions.




Golden Tiger Casino

Play any game with

£1500

totally free - no deposit required and whatever you win in your first 60 minutes is yours to keep! Play at Golden Tiger Casino with NO RISK to your personal funds!.




Casino Classic

Get

£500

Free and 60 minutes to make as much money as you can. UK Casino Classic has 400 games for you to choose from, including table games, slots, card games and progressive jackpot games. Preview the games below and check out the current jackpot levels.


Top Online Casinos

Phoenician Casino

You can get up to

£1200

bonus!



Captain Cooks Casino

Captain Cooks will give you

£500

FREE and 1 hour to make as much money as you can.



Golden Tiger Casino

Get

£1500

free - no deposit required.



Casino Classic

Get

£500

Free and 60 minutes to make as much money as you can.



Virtual City Casino

Get

£10

free just for downloading their software. Virtual City has a great selection of games, and all the great progressive jackpots like Major Millions, Wow Pot and Triple 7s Blackjack.



Lucky Emperor

For a limited time we offer this amazing sign up bonus:

£10

Free, no purchase required!




The Gaming Club

Get

£100

bonus to win on fantastic range of free slots games!



Lucky Nugget

£1000

free – double your chances of winning.



River Belle

Buy £200 and get

£200

Free at River Belle



Jackpot City

Get

£500

free. Choose from over 400 Slots and Progressive Slots.



7 Sultans

Get free

£1000

free bonus.



Royal Vegas

Get free

£1200

free bonus at Royal Vegas.



Platinum Play

Get

£1500

free (no deposit required) to spend on a variety of games. You'll have the most fun and exciting online gaming experience possible in a safe & secure environment.